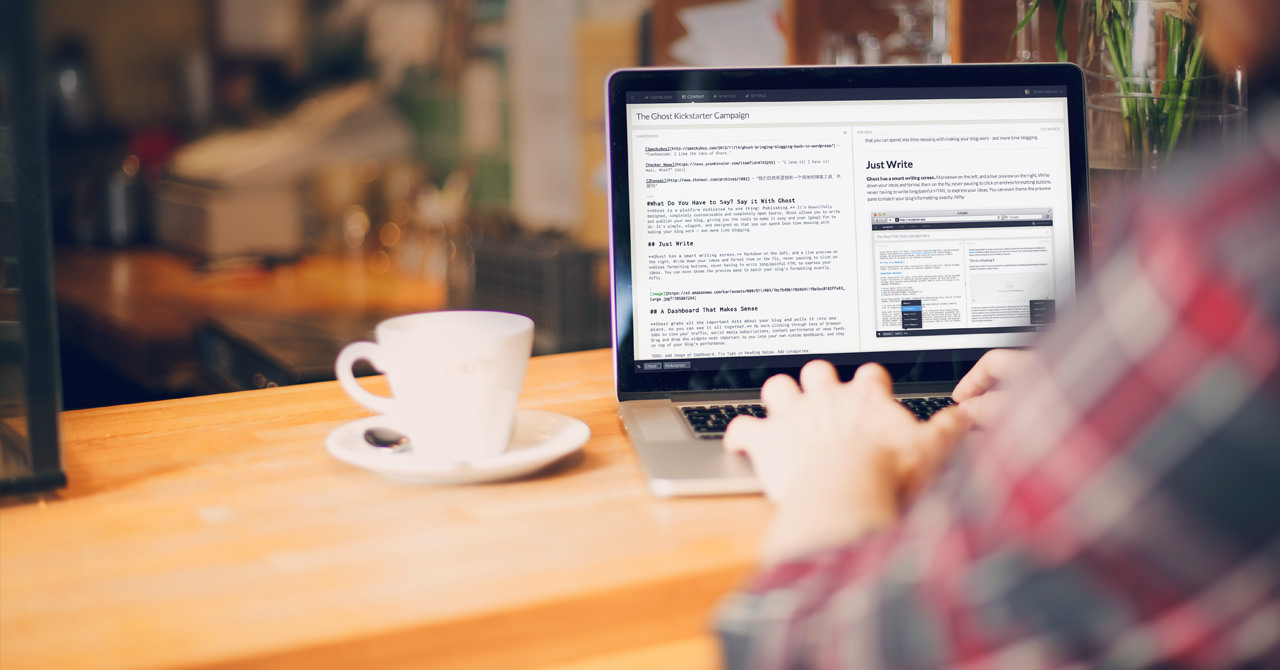 There's a new blogging tool that's been making the rounds for the last few years, and it's got people incredibly excited. Some are even going so far as to say it's going to be the death of WordPress. Whoa, wait, what?
Now, most of you have probably assumed that this is just more hype – and rightly so. It seems like every time a new product of any kind breaks into the market, people start buzzing and babbling about how it's going to dethrone the current king of the court. And guess what?
That never happens.
Thing is, this one's an incredibly impressive platform – more so, perhaps, than any before it. It perfectly captures the essence of what WordPress was originally developed to do – blog. It's called Ghost.
What Exactly IS Ghost, Anyway?
"There's a new entry in the blogging platform race that hopes to meet your less demanding needs," writes Sitepoint's Joe Hewitson. "This new entrant goes by the stealthy moniker Ghost. A fitting name really, given its unapologetic focus on no-frills web publishing. The pet project of former UI team member John O'Nolan, Ghost was created out of frustration with current blog builders. Ghost's own "About" page says it best:
After years of frustration building blogs with existing solutions, he wrote a concept for a fictional platform that would be once more about online publishing rather than building complex websites."
Based on Node.js, Ghost is designed from the ground up to be sleek, simple, and easy to use. Whereas WordPress often finds itself bogged down by a billion different plugins, publishing with Ghost is as simple as popping open your control panel, polishing off a post, and sending it out to the web. It's minimalistic design at its best.
But why does that make it such a threat to WordPress?
What Ghost Represents To Blogging
Back when WordPress first hit the market, it was incredibly simple. It was, at its core, designed to blog. Then somewhere along the way, things got a little more complicated. People started developing plugins. The backend grew more robust, more versatile. Before long, WordPress was far more than a simple blogging tool – it was one of the most widespread and full-featured Content Management Systems on the web.
Of course, not everyone was content with this change. Many felt that WordPress, in its pursuit of bigger and better functionality, grew a touch too bloated. The script, they said, is too complex; there are way too many plugins, and there's far too much that can go wrong and completely bork a site.
Ghost is a platform designed for those people. It's made for people who don't care about plugins, themes, or shiny bells and whistles, In other words, it's made for people who just want to write.
What Ghost Really Means For WordPress
So, now that we've laid the groundwork, let's go back to our original question. What does Ghost represent for WordPress. Does it really spell the death of the platform?
The short answer is no.
Ghost is probably going to draw into its camp a fairly large swathe of bloggers, true. It's probably going to hurt WordPress's user-base … but I suspect that the majority of people who will be drawn to the platform are free users – meaning they don't really represent much of a financial loss for the WordPress platform. See, the majority of commercial blogs require functionality that's far too complex (or far too removed from blogging) to code into Ghost – they're stuck with WordPress, since it's pretty much the best way design their website the way they need.
The truth is, WordPress hasn't been solely a blogging platform for a very, very long time. As such, to call Ghost a WordPress killer is to display a fundamental misunderstanding of how both platforms work. Sure, Ghost might do one thing better than WordPress – but that doesn't make it a killer app by any stretch.