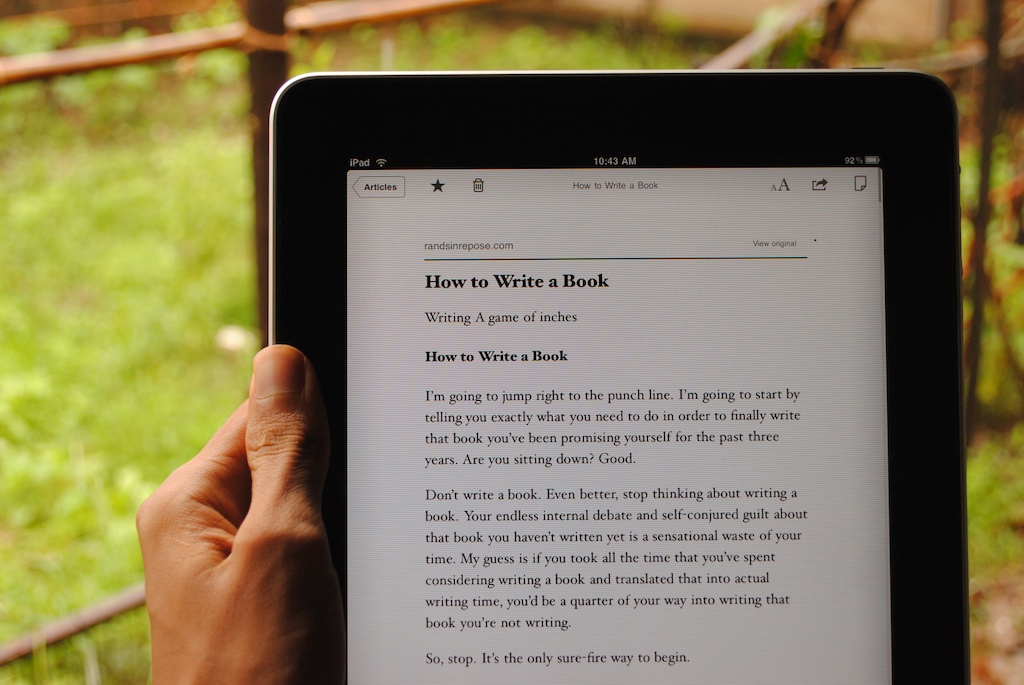 When I say "content marketing," most small business owners hear "blog". A blog is often the foundation of content marketing strategies. Blogging has a low barrier to entry, and, over time, can prove an excellent search engine optimization, audience building, and social media marketing resource. But blogging is far from the only content marketing strategy within reach of small businesses. Ebooks have also proven enormously successful for businesses of all sizes.
Although they're a proven content marketing tool, ebooks can seem daunting to business owners who aren't used to creating long-form content. The idea of writing a book fills many with dread, and that's understandable — I write for a living and I think twice before taking on a project of book length. But in many cases, I think business owners are overestimating how difficult it is to gather together sufficient content for a respectable ebook.
In fact, I'd argue that if you're blogging right, you're not that far away from having an ebook right now. By "blogging right" I mean focusing on topic optimization, which I've discussed on this blog before. Designing a blog's editorial calendar around topics, and creating collections of content relevant to those topics, will lead to a stock of closely related content that can easily be repurposed into a ebook.
I'd like to take a look at ebook strategies that business owners can use to leverage ebooks in content marketing.
Book Your Blog
As I've already mentioned, if you're following blogging best practices on your business blog, then repurposing that content will be relatively straightforward. A word of warning here though: it's not enough to simply cobble together a random selection of blog articles and drop a contents page in front. A good ebook should form a cohesive whole rather than just a collection of unrelated essays. Article openings and conclusions may have to be rewritten, and it's likely transitional content will have to be inserted to ensure a smooth transition between sections.
Dedicated Content For Lead Generation
When people hear ebook, they often think of 100,000-word novels and blanch at the thought. In reality, most lead generation ebooks clock in at somewhere north of 10,000 words. That's not much more than 10 substantial blog posts, and for a business that's already blogging, content of that length is well within reach.
For shorter content of this sort the best strategy is to choose a fairly narrow topic in the company's domain of expertise, and examine it in some detail. This isn't a PHD thesis, so the content shouldn't be too technical, but it should offer something of real value to potential customers.
Ebooks of this type are best used as an incentive for leads to submit contact details for later sales follow up and email marketing.
Dedicated Content For Thought Leadership
Ebooks in this category transcend "marketing content". They are substantial contributions to a field in their own right. Their purpose is to demonstrate the expertise, thought, and ethos of a company or a founder.
One of the best examples of this type of content marketing comes from the founders of Basecamp (formally 37Signals). Their series of books on the culture of work are respected contributions to the field that have sold in significant quantities.
Unless you are a skilled writer, this sort of content can be challenging and time-consuming. In most cases, I'd advise that smaller business owners stick with the shorter ebook strategies mentioned above, or hire a professional writer.
Ebooks are a powerful tool for generating leads, establishing a brand identity, and demonstrating expertise. They're a technique within reach of most businesses who are already blogging. In fact, if you aren't repurposing blog content for ebooks, you're missing a golden opportunity.