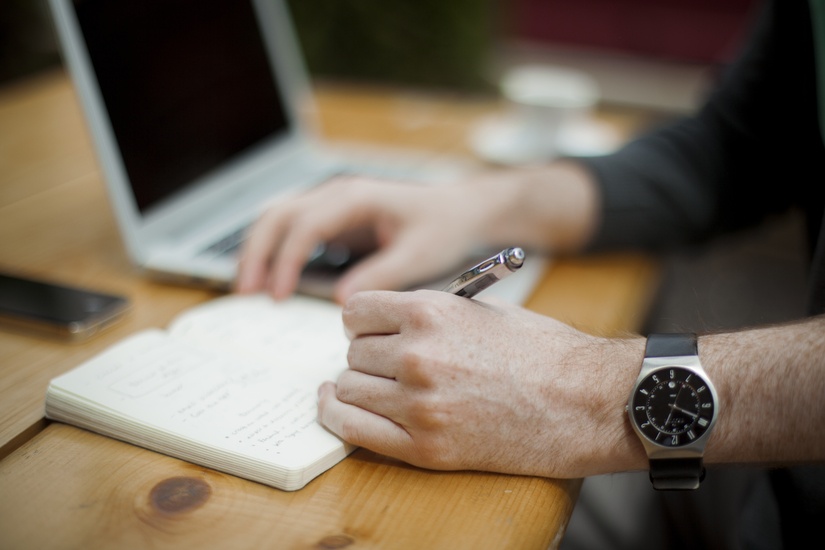 A couple of weeks ago, I wrote about some of the best tools for generating topic ideas for content marketing and blogging. In this article, I'd like to go a little further and talk about how I maintain a writing schedule for which I produce many thousands of words each month. In the average month I'll write dozens of blog articles, several press releases, and numerous other pieces of content.
Everything Is A Potential Topic
When you're a writer, you'll eventually come to view everything you read and experience with a specific set of questions in mind: Is this something I can write about? Do I have something to say about this that will be useful to other people? Can I add something to this that my audience will be interested in?
Write It Down!
You should always have a way to take note of your ideas. It doesn't matter whether you make notes in a real notebook, an app like Drafts, or on the back of your hand with a Biro. If you have an idea, write it down, because you're almost certain to forget it if you don't.
Research Before Writing
Inexperienced writers tend to think of writing as putting words on the page. In reality, that's a small part of the writing process. The bit where you're typing the content out for the first time is drafting, and the whole process, from coming up with an idea to the last proofread is writing.
I'm stressing that drafting is only part of writing because there are other parts that are equally important, and that should be given as much attention, particularly research. I've found that I write more efficiently if I gather together everything I want to talk about, along with citations, links, quotations, and related material, before I start to draft.
Researching while I'm drafting interrupts my flow, means I have to change what I've already written in light of new information, and tends to result in an article that lacks a cohesive structure.
Outlines Are Your Friend
This won't be true of everyone, but I find it better to digest and arrange my research and think through what I want to say before I begin drafting. Once I have an outline — even if it's just a word that indicates what I'm going to write about in each paragraph — I'm able to draft an article quickly without having to think much about overall structure when I should be focused on writing coherent sentences.
I tend to think linearly, and so outlines are a useful tool for me. Many people find that a less linear approach has better results. If that's you, take advantage of your natural thought processes and give mind mapping a try instead.
Draft First, Edit Later
You will be be tempted interrupt the drafting phase to fix mistakes in your writing. The most important thing is to get something down — you're going to have to edit and proofread anyway, so don't worry about producing perfectly elegant sentences while you're drafting. Just get the words on the page. You will polish them later.
Think About Your System
There is no one-size-fits-all approach to managing the complex workflows that are inherent to writing. It's not important that you squeeze yourself into a predefined pattern of work, but it is important that you think about and try to optimize the process.
Personally, I use Omnifocus to plan my writing (and almost everything else). Every article I write passes through several stages, from having an idea to a final proofreading and delivery. Omnifocus allows me to see where each article is in the process and what needs doing next. I can have as many articles as I need in progress without getting in (too much) of a muddle. Which is not to suggest that you immediately start using Omnifocus — it's not for everyone.
The point is that you should put aside some time to think about optimizing your workflow, and implement a strategy for planning and keeping track of your progress.
Write
The best way to write quickly and efficiently is to make sure your butt is in the chair and you're putting words on the page. All the process tweaking, optimization, and researching in the world isn't going to matter unless, at the end of the day, you have something to show for it.