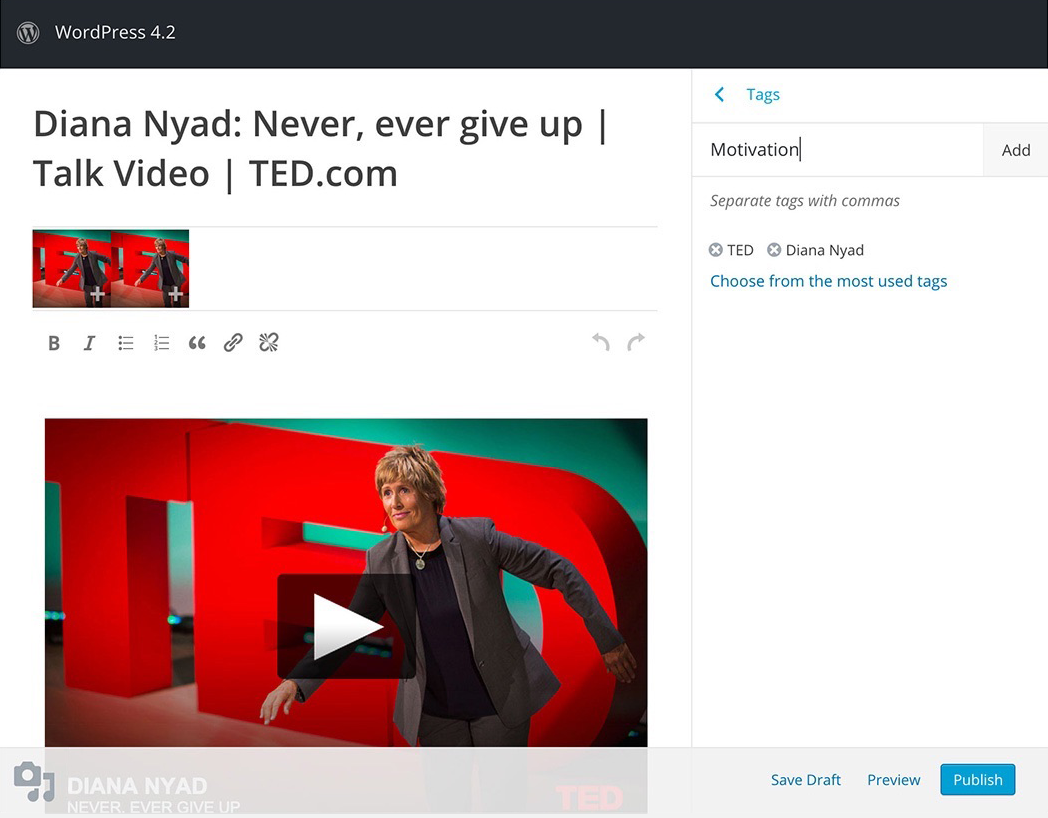 The WordPress team has been getting better at hitting their release schedules of late, and that's great news for WordPress users who have been anticipating the arrival of WordPress 4.2 this April. Named after jazz pianist Bud Powell, WordPress 4.2 follows hot on the heels of WordPress 4.1.2, which was a security release that you should install right away even if you don't immediately plan to upgrade to 4.2.
So, what do WordPress users have to look forward to in 4.2? There are no huge new features —the WordPress Rest API won't be ready for a while yet — but we do get some iterative improvements and enhancements to existing features that should please most WordPress bloggers.
Press This
Press This is hardly the most prominent feature of WordPress. In fact, I'd put money on most WordPress users being completely unaware of what it is for, tucked away as it is. In short, Press This is a bookmarklet intended to make it easier to get content into your WordPress site for sharing. It lives in your browser's bookmark bar and when you view some content you want to share on your WordPress site, a quick click will populate the bookmarklet's interface with the relevant information.
With 4.2 Press This has been given some serious attention. It now has a much nicer interface and can grab a more comprehensive set of information from the page you want to share. I've never really used Press This, but for those of you who use your WordPress blog as a Tumblog or just to share the things you love, it's a handy enhancement.
Emoji ( And Better International Language Support)
The headline feature here is really better support for international characters, including native Chinese, Japanese, and Korean characters. That makes it much easier for users of those character sets to get up and running with WordPress — they can simply use their usual input device and WordPress will just work.
But, the feature most Western users will be interested in rides along with the new character support — emoji. WordPress now offers full support for entering emoji within the editor.
Enhanced Theme Customizer
If you're not a whizz with CSS, the Theme Customizer is a great way to tweak the appearance of your theme, but until now you've not been able to switch or preview themes within the customizer. That changes with 4.2, which now allows for the customization, preview, and selection of installed themes all within the same interface.
Better Updates
No one likes to update their WordPress site (although everyone should do it regularly). In a fairly minor tweak which nevertheless makes the update process more pleasant, it's now possible to update directly from the plugin list page. Updating plugins is now a simple click, rather than click-click-wait-click process.
Check out the video below for a look at the new features in action.